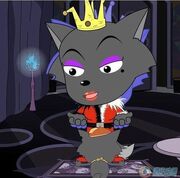 TRed Wolf (Traditional Chinese: 紅太狼; also called Wolnie in English) is the narcissistic wife of Grey Wolf, who dresses in a red robe with black and white trims. She is over-demanding and abusive towards her husband, hitting him with her frying pan whenever his schemes fail. She is actually very smart and while her husband can think of outlandish inventions to catch sheep, her simple ideas are the ones that are actually successful. Tra
She is based of Kung Jin, Sub-Zero, Scorpion, Liu Kang, D'Vorah, Reptile from Mortal Kombat Special.
She is based off Ruby and Sapphire (Garnet) from Steven Universe.
She is based of Jack from Oggy and the Cockroạches.
She is make friends of Cylindria from Pac-Man and the Ghostly Adventures.
She is make rivalry of Eugenie from Zip Zip and Pretty Goat.
she is based by rogue the bat form sonic x.
she is really fancy and wants everything to be purfect.