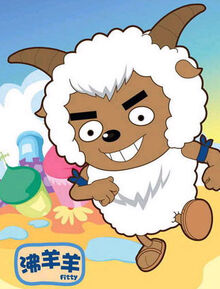 Fit Goat (or Fitty, chance ,Sparky etc) is a tan goat with a built physique. He is stubborn and rude but truly cares for his friends. He appears to have a crush on Tibbe, and is often seen being protective of her and siding/agreeing with whatever she says. Chance is considered "all brawn, no brain" by the other goats, and hates it when others call him "Useless Goat" (the pronunciation of 'useless' is the same as his name in Mandarin).
his pet are two boxing gloves (you two) they are fesity like him they help him box but once they try to run away from chance and also punch him sometimes.
"its feisty time"
" your going down"
"fight fight fight"
"come back you two"
"ha ha paddi you lazy poke
"time to go boxing"
" sigh you two"
"ouch you cant beat up me"
" i will defeat you in one bit
"ow ow you guys are so strong"
"I knew you two will listen to me"
he is almost brave of every thing
he is bad at singing
he left handed
he has a crush on tibbie
his fave food is pizza
he is based by knunkles the echina, bomb (angry birds) ,apple jack (my little pony)
best friends
Edit
he is best friends with happy and paddi but he likes happy more and likes to bully paddi. chance has a crush on tibbie and likes to do boxing with bitsy. he and slowly do not along togather.
gallery